INTRODUCING THE FIELD: OPENING THE GATE TO YOUR CHILD'S IMAGINATION
***
This Toy Field from Ireland Inspires Real World, Interactive Play and With No Batteries Required, It's No Wonder Parents Love It Too!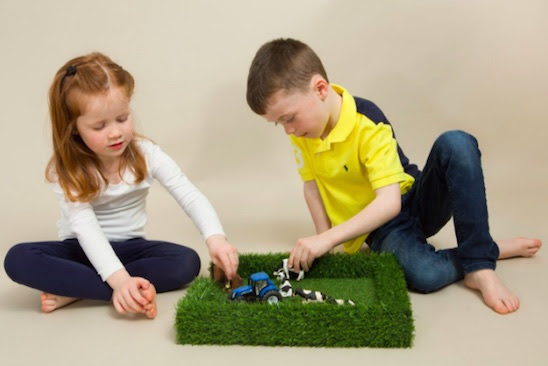 What child doesn't love figurines and creating little worlds that reflect their own but are also unique and utterly enchanting? There is so much value in the real world 'small' play for growing imaginations and developing learning and social skills.
Enter Padraic Cuddy, owner of Class Grass Ireland, which supplies superior quality synthetic grasses to the Irish market. His three-year-old son Tommy came to him with a request: he wanted a realistic toy field to make grazing lands for his many farm animal figurines to enjoy.


A simple appeal which, in 2015, lead to a solid business idea: realistic model toy fields and paddocks, complete with lush green grass, hedging, and traditional wooden farm gates! Designed for kids aged 3+, the Field Toys spark imaginative, inspired play and no batteries are needed!
With its realistic fields, hedges, and wooden gates, kids who love playing with miniature farm animals and vehicles can immerse in playing "farm life" and imagine riding for the blue ribbon. Little ones will have a blast playing with grazing cattle, shepherding animals around the field, tending to a designated plot of farmland with the miniature tractor, and so much more. The Field is highly versatile and is only limited by a child's imagination. Kids can also use it as fairy gardens, equestrian arenas, toy camping or picnicking as well as playing with soccer or football miniatures, legos, car parking, and much more.
The Field Toy can be used indoors, or outside, for hours of turning imaginations into reality. Each field comes with animal figures, a tractor, and trailer and even arrives with a Certificate of Title, so there is no doubt as to who owns this tiny plot of creative fun!

Children like the Field Toy because it creates the foundation for hours of inventive play. Instead of having their little 'small' world created for them through elaborate structures and playhouses, the Field Toy allows children to use their own imaginations to put together a play space like none other.
Parents like the Field Toy because its low tech, 'no batteries needed', style is an approachable and encouraging way for kids to get off their screens and develop a world right in front of their eyes. They will develop concentration and imagination because of the fact that they can touch, feel and engage with the Field Toy, time and time again and in new and wonderful ways.
Disclosure: I was not compensated for this post. Regardless, I only recommend products or services I use or would use personally and believe will be good for my readers. Your opinions may vary from my opinions. You can also go here and read my PR and Disclosure Policies.